November 1998 - Darren Maxwell attends a science fiction seminar/convention in Sydney where he discusses with local fan Garfield Barnard about how good it would be to hold a convention based around the golden age of Sci-Fi. Despite both of them having a lot of enthusiasm for such an event, unfortunately nothing progresses beyond this discussion.

June 2005 - Russell Devlin coins the name Con 9 - in reference to Plan 9 From Outer Space - for an old style fannish convention based around the golden age of science fiction. Russell then talks off and on over the following years to Darren about Con 9 as something that would be a great event, especially as modern day conventions are simply ignoring this classic genre.

February 2009 - Russell and Darren continue to discuss Con 9 when Russell comes up with the following concept:
"It could be mounted as a pure movie/tv convention like Cinecon or used as a general theme for a broader con. You could have panels/activities based around Alien invasion movies, Space movies, Horror movies, good movies, bad movies, SPFX, Directors etc and screen groups of movies & tv shows to reflect that. You could have a costume pde based on 50's movies and talk Ralph Baker into putting on his Deadly Earnest kit to act as host. Ideally it could have used a cinema as a venue."
Unable to contain themselves, programme ideas are then jotted down even though the thought of holding an actual convention is not even on the agenda.
September 2009 - Darren creates the first draft programme purely for the fun of it and sends it to Russell for his feedback. From here the programme goes through some revised drafts as new ideas for panels and discussions are incorporated.
February 2010 - Other ideas about the convention start to be discussed including possible venues, membership costs and potential committee positions even though the convention is still being treated as a hyperthetical "what if" event.
Russell conceives the idea of the KFC bucket banquet.
March 2010 - After much deliberation, Darren finally decides that Con 9 needs to move forward into something more concrete, so he registers con9fromouterspace.com and launches the website. Knowing the convention will take time to be organised, Darren randomly chooses the date of June 2012 when he will be free from his film making activities to focus more time on it. Both Russell and Darren hope/expect Con 9 to have an attendance of around 80-100 people due to the unique subject matter. The idea of Con 9 is shared with a couple of Russell and Darren's friends who fully support the concept, but other than this no official announcements are made and the website is not widely publicised.
Con 9 is about to become a reality!
April 2010 - Con 9 is mentioned on Facebook with the launch of some new teaser posters by Russell. This marks the first public advertisement for the event.
May 2010 - The Panel Programme is released on the website.
July 2010 - Con 9 is announced in the July 2010 edition of the Australian Sci-Fi Bullsheet, an online newsletter reporting on upcoming events and news within the local science fiction community.
Darren sets up the Con 9 email account and starts talking to Geoff Tilley (well known fan personality) and Darren Reid (displays) about becoming involved in the event.
September 2010 - Garfield Barnard, the guy who originally discussed the idea of a classic Sci-Fi convention with Darren back in 1998, joins the Con 9 team under his moniker Nigel Honeybone and immediately outlines a number of great ideas. Having Garfield ... errr Nigel involved in the con makes him our first interstate member.
January 2011 - H Gibbens, well known Sci-Fi fan and CG visual FX artist, offers his services to Con 9 in helping create promotional video trailers which is a huge bonus to the event.
February 2011 - Clare McDonald signs up to be a part of the Con 9 organising team which is great for us as Clare comes with a wealth of experience including previously working on a World Science Fiction Convention.
Darren approaches well known graphic designer Michael Wilson to create an official logo for the convention. Michael starts work on it and comes up with a couple of concepts that are definitely heading in the right direction.
March 2011 - The inaugural Con 9 organising team meeting takes place. After spending years talking about Con 9 between Russell and Darren, it is finally shared amongst a group of people whose job it will be to bring the event to life. It's a very exciting time indeed, aside from investigating potential venues, Con 9 now has an official date: July 14-15, 2012!
May 2011 - Our second team meeting takes place where the all important matter of the venue is discussed. We have narrowed the choice down to one and will investigate it in the next couple of weeks before announcing it here. In more important news though, Michael Wilson has completed the creation of our official convention logo!
June 2011 - After investigating a few options, we have now picked our venue - the Amora Hotel Riverwalk - which will be ideal for our needs.
July 2011 - It is with great sadness that we have dropped the concept of our KFC Bucket Banquet as we now think it's not feasible for the size of the convention we plan to hold. Never to fear though we will think of an alternative option.
On the 14th of this month we started the countdown clock, yep it's now one year to the day when Con 9 will take place.
Our brand new promo video was launched which was our first big step into the marketing world. A big thanks to H Gibbens for making this for us.
We finally opened for business! Yep, our online membership form was launched which meant we were now officially signing people up!
August 2011 - We've entered the world of social networking with both a Facebook page AND a Twitter account. The Con 9 word is getting out there!
September 2011 - Memberships are now starting to come in, allbeit rather slowly. Still, like a good 50s sci-fi film, it maybe slow to start off but the end result will be worth it.
October 2011 - Con 9 had a stall at Armageddon - the large pop culture expo - marking the first significant appearance of our event in the public arena. At Armageddon we not only sold 64 of our custom made sci-fi badges, but we sold ALL of our chocolates, handed out over 180 flyers, picked up a couple of memberships and received a LOT of compliments for our setup and presentation.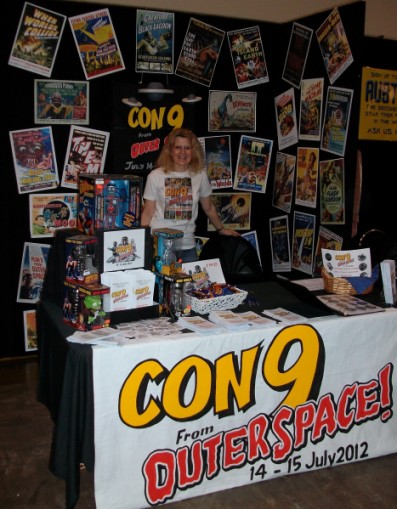 Lynne our Treasurer with our stall at Armageddon
.
November 2011 - Con 9 obtains official support from Seventh Art, the big sci-fi merchandise store in Hawthorn which is great news for us as businesses are now seeing the benefit of joining up with us.
We also opened our own Con 9 From Outer Space online shop!
We now have a great new term to describe supporters of our convention Con9ers!
December 2011 - As a Christmas gift to our loyal supporters, our first Progress Report was released this month.
January 2012 - This month saw us run our "Join in January" promotion with a range of goodies up for grabs which was won by Kevin Reider from Victoria.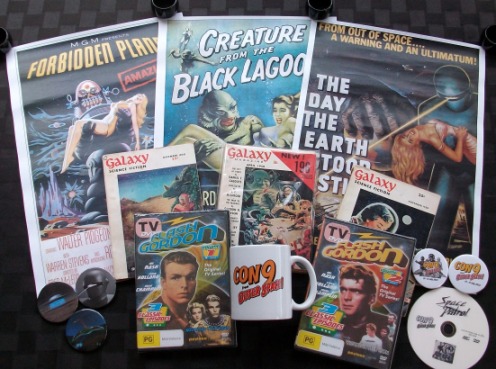 February 2012 - Con 9 prepares to commence our in-store promotions with flyers and posters. Now that the convention is less than a few months away, it's all hands on deck to start getting things together.
We also recruited our 10th Con 9 Team Member to help organise the convention, Daniel Sullivan.
March 2012 - We issued our first Valued Member badge to Paul Kennedy who signed not only himself up but Colin Briscoe as well.
April 2012 - This month saw us launch our all new Con 9 Forum as well as making an appearance at the Supernova pop culture expo where the Con 9 message was once again shown to the world.
May 2012 - This was our calm before the storm month as we quietly spent time getting things organised for the convention. Once June kicked in promotions for the con would begin in earnest
June 2012 - It's full steam ahead! Con 9 has been promoting itself like mad with appearances at fan club meetings, a First Contact Star Trek convention and with a huge level of success at Oz Comiccon which took place two weeks before our event - the timing couldn't have been better. On top of this our Competition dates have closed with entries being received in both the fan fiction and the short film areas.
After having Con 9 on our minds for so many years, it's hard to believe we're less than a month away from the event taking place.
July 2012 - Well it's now July and not only is it carbon tax time but it's the final countdown to our convention.
We are now only four days away! Everything is set and organised and the mood is extremely positive. Funnily enough in March 2010 we had hoped to get an attendance between 80-100 people, well we've now past our minimum 80 mark which is very satisfying indeed especially as we still have people signing up.
Today we deactivated our online booking form and it's like we've lost an old friend as it has served us really well in allowing people to join up with ease.
IT'S OVER!
After talking about it for seven years along with a year and half's dedicated planning, Con 9 From Outer Space is finished and what a time it was. Not only did we have MORE members than we expected (approx 146) but the event was a resounding success with everyone having a great time. For a single weekend we brought the past back to the present and like the classic sci-fi movies of the 50s it's guaranteed to be remembered for a long time to come.
A special thanks to everyone who helped out with the convention and those who attended.
.
July 2022 - Post addendum: exactly 10 years after the convention, a number of people returned to the Anora Hotel to celebrate the joy which was Con 9 From Outer Space. Not only were there some great memories shared of the event, but Con 9's famous but unfortunately cancelled KFC Bucket Banquet FINALLY occurred with Peter 'MPS' Sims bringing along a special bucket loaded with KFC goodness, yep it was full of potato chips. Honestly life couldn't have been any better!
Like the Sci-Fi movies and TV shows which inspired it, may the memory of Con 9 From Outer Space live on forever.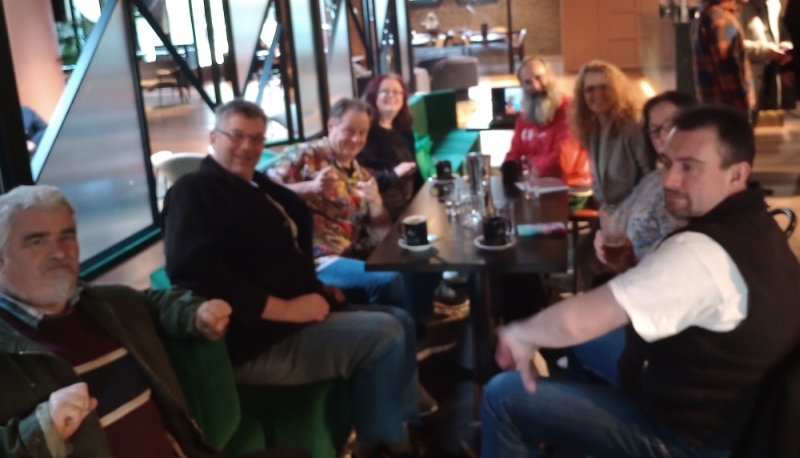 Celebrating Con 9 From Outer Space's tenth anniversary (pic by Kevin Reider)
.
.