Stop the presses!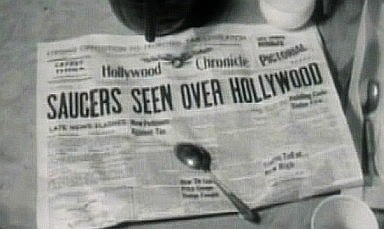 .
Con 9 joins social networking
Con 9 From Outer Space can now be followed on Facebook and Twitter
..
We have a special guest to announce!
Although Con 9 isn't having any international film celebrities attending as special guests, this doesn't mean we can't support our local film industry. With this in mind we're pleased to announce that the Australian Film Critics Association will be presenting Stephen Amis the director of a brand new Australian Science Fiction film called The 25th Reich which is actually set in the 1950s! Talk about a film that's right up Con 9's alley!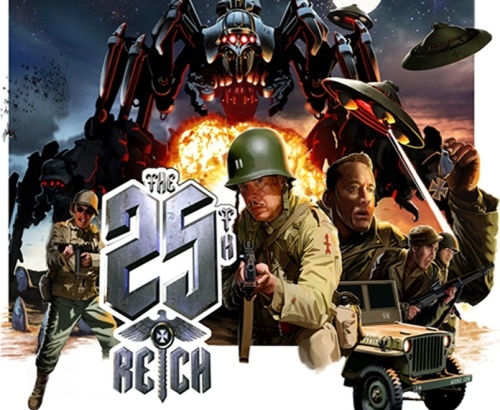 .
Panel Programme finalised!
Our panel programme has now been finalised and looks really great. So if you want to know what Con 9 has on offer with regards to our panels and discussions, then head on over to the Programme section and click on the Programme link. If you're a fan classic science fiction, we DEFINITELY have something for everyone! On top of this our Video Programme has been finalised as well so watch this space for more details regarding that.
.
Con 9 Forums now open
To ensure we can receive regular feedback from our members and supporters, we've just opened up our new Con 9 online forums. So if you have any questions for the Con 9 team or if you simply want to communicate with us or other members, just pop on over for a visit here
.
The people who really know their movies are now with us!
It's with great joy we announce that the Australian Film Critics Association are now supporting our event. Not only are they major film enthusiasts, but they know their classics as well. Expect to hear more about AFCA at Con 9.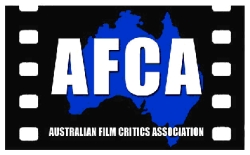 ...
Con 9 Merchandise
Feel like showing your support for the Ultimate Science Fiction convention? Well now you can with some great merchandise from our online store. Be sure to check out our Con 9 From Outer Space shop today!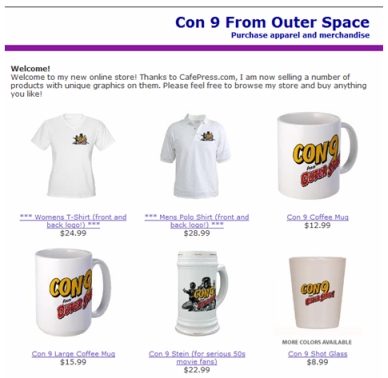 .
Banquet
We've organised to have a dinner banquet at our hotel's in-house restaurant on the Saturday night. If you're a Con 9 member and would like to join us, then just pop over to the Banquet page and make a booking.
..
Become a volunteer
Con 9 is an event being run by volunteers, which means we're always on the look out for anyone else who wants to give us a hand - especially once we start getting close the July 2012 date. All volunteers will receive:
A lucky dip prize featuring a classic sci-fi film
A special "thanks to" certificate you can hang on your wall with pride
Your name highlighted in our Membership listing showing everyone how dedicated you are to our event
*** You must be a full financial member of Con 9 to participate and must be willing to volunteer your services for a minimum of four hours per day ***
.
Have any classic Sci-Fi items you'd like to sell?
Con 9 will not be running an auction, which means you will need to obtain a Dealers table (only $15 for Con 9 members) if you have any classic science fiction items you wish to sell.
Alternatively if you have any suitable items you would like to show off at our convention, please contact us at Con 9 as we're putting together a display of classic science fiction material that will give those forgotten items of yesteryear a new lease of life.
.
(Note: this has been updated since close of the convention) Nominate the top 10 Best Classic Sci-Fi Films of all Time!
Our last panel for the convention was a debate on what is the best classic science fiction film ever made. As a prelude to this discussion, members of the convention were able to list their top 10 classic pre 1965 films that they thought worthy of a mention. This list was then read out at the end of the panel with The Day the Earth Stood Still being voted as the best film.
Here for your perusal are the films as voted by you.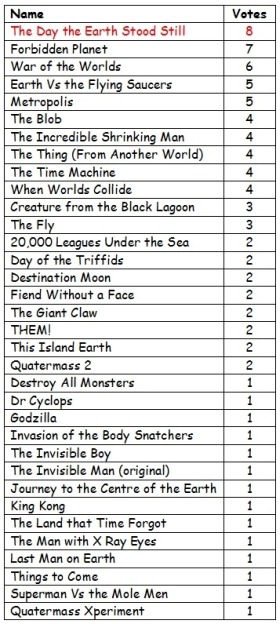 .