February 2014 - Despite being busy organising Con 70: A Retro Sci-Fi Adventure, Darren Maxwell and Russell Devlin begin discussing a 1980s convention as the next follow up event. Russell then coins the title Con Eight-Zero as a possible name and though Darren likes it a lot, he feels audiences will relate more to the somewhat less exciting title Con 80.

Alas because both of them are so focused on Con 70, very little is discussed about Con 80. Despite this, both Russell and Darren acknowledge this is the one convention they really want to do as both of them were a part of the Victorian science fiction fan community during this decade.

March 28, 2014 - Darren creates the subtitle of The New Romantic Sci-Fi Experience to add to the Con 80 name.

May 7, 2014 - Darren starts putting the panel programme together mainly for the fun of it. Being an 80s afficionardo, ideas for panels come together really easily.

May 23, 2014 - Darren advises Russell that Con 80 will probably become a reality simply because everyone will be expecting it, he also anticipates it will be held a year after Con 70 in 2016. From here all work on Con 80 stops to ensure the focus remains on Con 70.

January 25, 2015 - Due to the low number of Full memberships Con 70 is attracting, and therefore the lack of income being generated, Darren is forced to concede Con 80 may not occur. For Con 80 to become viable, Con 70 has to at least break even financially which at this point isn't looking likely.

February 22, 2015 - Despite the likelihood Con 80 will not go ahead, this doesn't stop Con 70 team members Clare McDonald-Sims and Emma Beddows discussing the option of using crowd funding to help raise financing for it.

February 27, 2015 - Darren emails the draft two day programme of Con 80 to all Con 70 team members just for a bit of fun, despite knowing Con 80 won't be taking place.

February 28 2015 - Darren realises there is still a way Con 80 could possibly proceed. He discusses the concept with Treasurer Lynne Brack and outlines a plan of making Con 80 a basic two day convention, with many of the current Con 70 trimmings removed in an attempt to cut costs (ie no badges, no promo tables at the Expos, etc). Also despite there being no formal announcement of Con 80, the fan community keeps talking about the convention as if it's already a reality.

March 7-9, 2015 - Con 70 takes place on this long weekend and throughout the entire event the only thing people are talking about is Con 80. As they discuss this with Darren, attendees begin to realise Con 80 is in jeopardy of not taking place because Con 70 has a serious funding issue. Suddenly, as if there is some type of unofficial rally cry, the members of the convention help boost the convention's finances by spending up big in the two auctions, donating some really unique items to the convention 'fire sale' auction and buying a lot of raffle tickets and badges. Yet despite this valiant attempt, Darren is absolutely convinced the convention will make a $3,000 loss.

By the time Con 70 is finished, everyone immediately turns to Con 80 - to the point where convention members like Ange Kene have requested to be a part of the organising team for it, even though the convention doesn't actually exist.

March 10, 2015 - The day after Con 70 concludes, the finances are tallied up and low and behold the convention has made a $52 profit thanks to the overwhelming generosity of the members! Without hesitation Darren advises the Con 70 team the situation and announces Con 80 will now go ahead as a three day convention on the Labour Day long weekend in 2017.

With renewed enthusiasm for this event, Darren immediately gets to work putting together the new Con 80 website and designing the new logo.

March 11, 2015 - The new logo for the convention is finished only a day after being started. Darren opts to use the subtitle The Ultimate 1980s Sci-Fi Experience to ensure people who read the logo will know what it means.

March 12, 2015 - Feeling he is now on a roll, Darren creates a special promo video for Con 80 which is intended to be screened at the upcoming Austrek meeting, it's here where the convention will be formerly announced to the world.

March 14, 2015 - The word is now out. Con 80 is publically announced to the members of Austrek to a loud, rousing cheer. Plus we have a new face coming into the team as Ange Kene confirms his willingness to be a part of our group.

Throughout the Austrek meeting and dinner afterwards, the talk of Con 80 is unrelenting and we're still two years away! Even at this early stage Darren feels as if a monster has been created, which can only be a good thing.

March 17, 2015 - The Con 80 website is updated and launched.

May 18, 2015 - Proving that Con 80 is starting to gain momentum at this early stage, the panel programme is nearing completion even though the convention itself is still a year and 10 months away. Yet beating this is Garfield's film festival programme which was completed in April 2015, a full year and 11 months away! The Con 80 film festival will include a number of unique science fiction films from the 1980s from such places as France, Japan and New Zealand.

August 15, 2015 - The organisational wheels for Con 80 are now turning. Yep, we held our first team meeting where the core details of the convention were discussed and fleshed out.

September 6, 2015 - It's official, we're now open for business! Today our online membership form went live so we're all ready to start signing up our new members - including one from the USA - even though our convention is still over a year and half away. At least you can't say we didn't give people enough time to plan for it!

October 6, 2015 - Our Facebook page went live today chock full of Con 80 goodness.

October 10, 2015 - Today we told the world about Con 80. Yep, we sent out our official introductory email to all of our Con 9 and Con 70 members exactly one and half years (and one day) out from the launch of the convention. Let the good times roll!

February 28, 2016 - And so it begins. Today Con 80 was promoted to the world via the all new ComiXpo in Collingwood. We finally got to show off our new table banner, with our new flyers and our all new badges and magnets. It was a great day with a lot of people showing interest in our event - and to think this is only the beginning as we're still over a year away until the convention itself!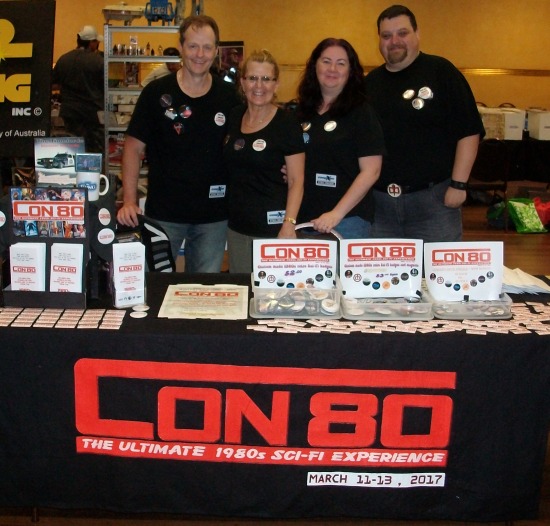 The Con 80 team all setup and raring to go: Darren, Lynne, Clare and Ange
.
March 11, 2016 - The countdown clock is officially in overdrive, why? Because we now only have one year to go! Sure, a year can seem like a long time, but it only seems like last week we told everyone it was a year and six months away!!!
March 18, 2016 - Con 80 was invited to host a presentation at the Melbourne Science Fiction Club on this night. Our aim was show the attendees a sample of what the panels of Con 80 would look like as we discussed some good and bad Sci-Fi movies from the 80s. It was a very successful night with a lot of people taking interest in the convention including one member who signed and paid up on the spot!
May 20, 2016 - We just completed our triple whammy of Con 80 fan club promotions. For three weeks in a row we've promoted Con 80 with a table setup similar the one pictured above at Austrek (week 1), Doctor Who Club of Victoria (week 2) and the Melbourne Science Fiction Club (week 3). The promotion has worked really well with people signing up on the spot, along with purchasing our ultra collectable 1980s Sci-Fi badges and magnets (we call them collectables because none of the designs will be available once the convention finishes).
August 11, 2016 - With Con 80 being exactly eight months away, today we published our first Progress Report.
September 17, 2016 - We premiered our new promotional trailer today at the Star Walking fan club meeting (which was their last one for the year) and by all accounts it must have been a success as a number of people went over to our table soon after to grab a flyer. As for the trailer itself, it won't be given a public release until mid October when we'll be six months out from the convention.
October 17, 2016 - Our new trailer has been launched to the world via our Con 80 Facebook page. You can see it here.
November 1, 2016 - Melbourne Cup Day may have been great for Almandin, but it was also great for Con 80 as we promoted ourselves at Comixpo to the eager masses.
December 31, 2016 - In what could only be interpreted as a positive omen for our event, highly respected and long time Melbourne fan James "Jocko" Allen, who missed both Con 9 and Con 70, joined Con 80 on New Years Eve. What a fantastic way to finish the year!
January 11, 2017 - It's hard to believe but we are exactly two months to the day away from Con 80! When February comes around, we'll commence our last ever sales push at all the fan club meetings. Not long to go now.
February 11, 2017 - Wow, only one month to go! Luckily for us everything is pretty much ready to go as evidenced by the picture below taken at Austrek.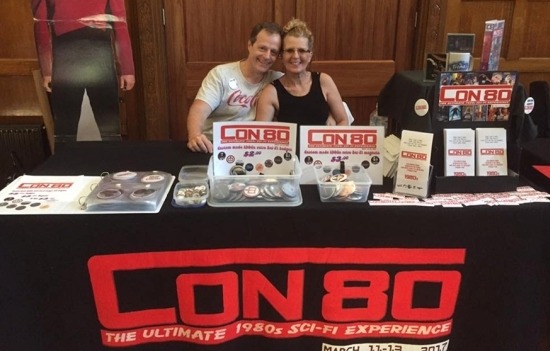 Darren and Lynne at Austrek. Their smiles confirm everything is going fantastic with Con 80
.
March 9, 2017 - With Con 80 bumping in at our venue tomorrow night, today we said farewell to an old friend, yes our online membership form has closed down. Not only was it sad to see it go, but it was a reminder that after two years of planning, Con 80 is finally here. The next time we update this timeline, it will all be over.
March 14, 2017 - Well it's all over. Con 80 was a resounding success with roughly 150 turning up to it, including a number of day members who returned for a second day. In the end the convention was the best we could make it and from all the smiles and the constant talk about doing a Con 90 we know it was a hit.
Con 80 isn't 'the little convention that could', it's now 'the little convention that DID'.
.