It's taken a few years but RED, along with a couple of special behind the scenes video features, is now on YouTube. Enjoy

RED

(running time: 12 minutes 30 seconds)

Dressed to Impress - The Costumes of RED

(running time: 5 minutes 30 seconds)

When in Roam - The Making of the Big Bad Wolf

(running time: 5 minutes)

26/3/12 - Presenting the final product. Thanks to everyone involved for turning a simple idea from 2005 into a reality in 2012.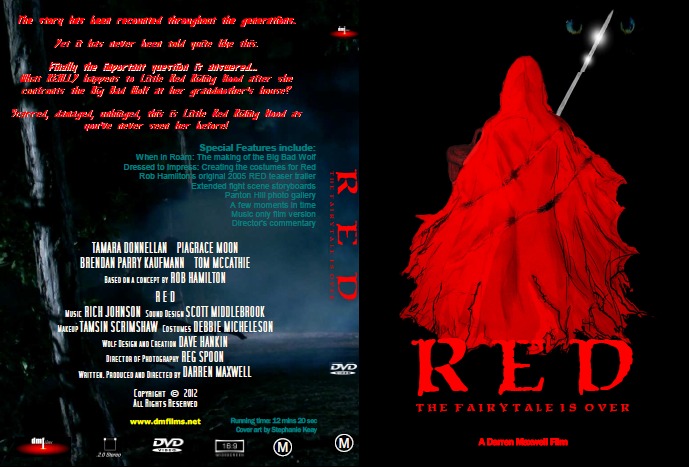 .
15/3/12 - The premiere screening date for RED has now been announced, after this we'll start looking at the festival circuit.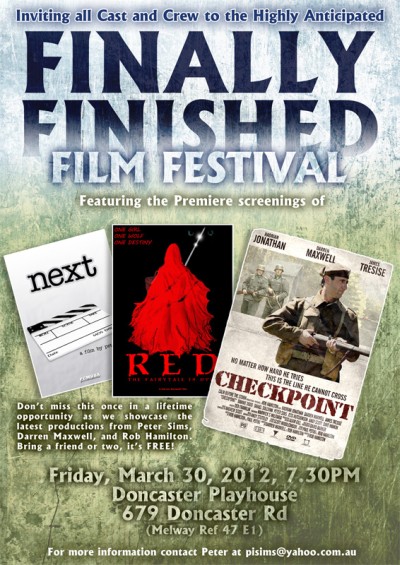 .
28/2/12 - We're pleased to present our new poster for RED featuring the great artwork from Stephanie Keay, we hope you like it. This image will also appear on the DVD cover which will be created in March.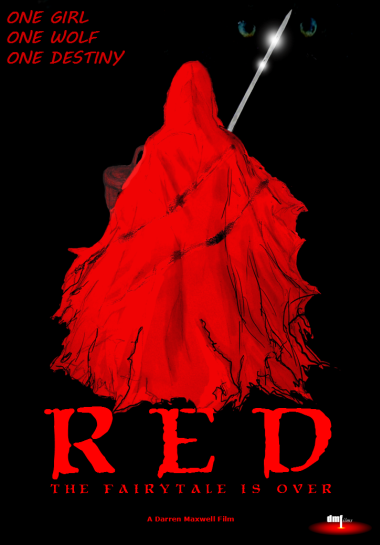 .
31/1/12 - It's finished! After being conceived as a short film way back in 2006, we're pleased to announce that RED is now a completed reality. A heartfelt thanks to everyone who worked on the production.
11/1/12 - We're nearly done! The edit has long since been locked off, the music has now been included, the sound design is 99% complete and all the FX shots (bar one which needs a bit of a touch up) have now been added in. The only major task remaining is colour grading and then the film will receive a final review and sign off.
28/11/11 - It's been a long time between updates but things have been moving along. In recent times we've been working on the audio - cleaning up the dialogue and adding in sound FX - and today our music has arrived from Rich in the USA. Things are starting to come together!
29/8/11 - Today we handed over 26 shots to Robbie and Paul, our FX guys. Their job is to look at these shots to see if they can be enhanced with visual effects or to fix any errors. Once these shots are completed and reinserted back into the edit, colour grading can commence.
6/8/11 - We have now locked the edit, running at around 12 minutes and 6 seconds the film has turned out really well. The next step is to export a few versions: one for Scott our sound designer who will be required to create all the sound FX for the film, and another for Rich our music composer so he can commence work on creating the soundtrack. The other step will be the exporting of various shots so that Robbie and Paul can commence working on the visual FX. So in summary, we're making some really good progress.
30/7/11 - Our review session went great today and a number of changes were made in the film which has reduced its running time to just a fraction over 12 minutes. By the end of the week we should have a locked edit which is great news.
23/7/11 - The last of our footage was filmed tonight with a couple of pickup shots that will barely last three seconds on screen - yet they were necessary for the story. All that remains now is to incorporate this new material into the edit and then get a couple of people to review the film for their opinion which will occur next Saturday.
9/7/11 - We had a successful visit from Scott Middlebrook our Sound Designer today. We went through the film in detail and all the dialogue audio was handed over to him for processing, so it'll be great to see (or hear in this case) the final results.
6/7/11 - Post production on Red is moving along really well. The workprint edit is effectively complete, although there is a requirement to shoot two quick pickup shots which are scheduled for the next couple of weeks. The film itself currently has a running time of 12 and half minutes and this weekend we hope to start addressing the sound, in particular the all important dialogue material. Once the edit is complete, the film will be screened to a couple of people for their reactions and to see if any other changes need to be made.
22/6/11 - Principle photography is now complete after a successful weekend of shooting in our forest location in Vermont. The film now moves into post production where the new material will be inserted into the edit.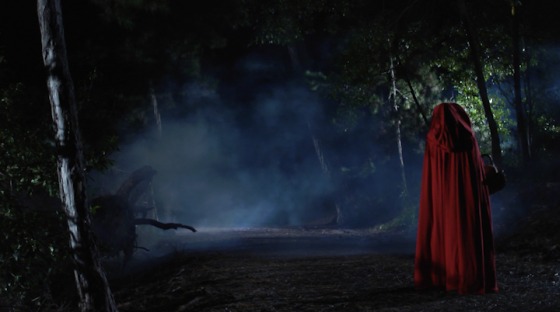 You just know the wolf is out there
20/5/11 - Our winery shoot is wrapped! After waiting over a year for this sequence to occur it was great to see everything finally come together. All the cast and crew did some great work to bring the film to life and the results were outstanding. With this part of the film completed, we are officially past the halfway point as all that remains now is a two day location shoot in the middle of June where Red does battle with Roam.
Little Red Riding Hood visits her sick grandmother ... and this is where the fairytale ends!
16/5/11 - One day left and counting. After all the time, effort and preparations Red is now ready to go in front of the cameras tomorrow night. Wish us luck!
11/5/11 - It's not very often a short film inspires the creation of a musical number, but that is what Chris Brennan our Behind The Scenes videographer has done. So I ask you to summon the minstrels as we present ... The Ballard of Red.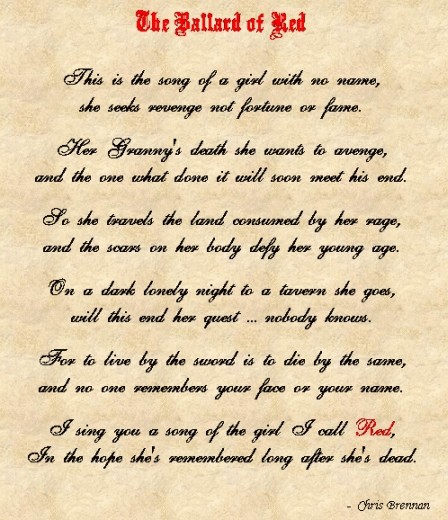 10/5/11 - One week to go and counting! After a year of planning we're now on the home stretch and everything is coming together really well.
8/5/11 - It's been a very productive weekend for sure. Yesterday was our last production meeting where elements of the film were discussed in detail and today was our final visit to the winery. After all the months of planning and work by so many people, everything is coming together really well.
7/5/11 - After months of hard work, Debbie handed over the completed battle suits ready for extra weathering and damage from Red's various confrontations with Roam. Due to the timeline nature of the story, Debbie was required to make three suits which naturally tripled the workload. Not fun for her.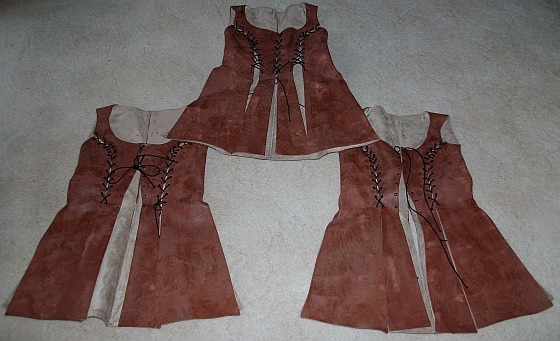 Three battle suits coming right up!
6/5/11 - Our second makeup test with Tamara was successfully completed. We now have the ability to create the makeup effects we require without causing Tamara any undue skin irritations which is great news.
5/5/11 - After nearly a year of work, Roam's construction is on the home stretch. Tonight Michael, Adam and Dave spent hours painting and attaching fur in preparation for a final fitting before filming commences in around a week and a half.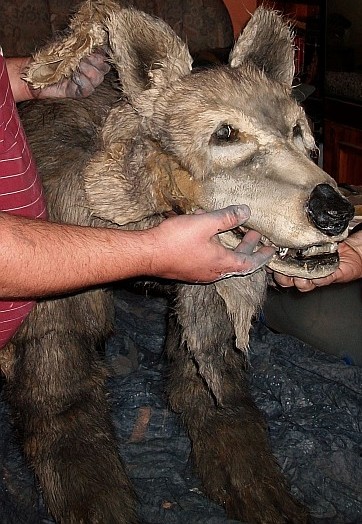 Roam finally takes shape!
1/5/11 - The last of our costume fittings occured tonight which means Debbie can now go gangbusters in getting the costumes finished. Next to this was the all important rehearsal between Tamara and PiaGrace where we got to see the screenplay in action. Considering the bulk of the script was written five years ago, it was great to see our cast finally bring it to life.
27/4/11 - After the issues of last weekend it was good to see things swing back into our favour and boy a lot has happened in just three days. Tonight was the final costume fitting for all five lumberjacks, the grandmother and Genevieve. In fact this was the first time many of the cast had come together as none of them had met before.
The fur issues for Roam have been resolved and after performing some tests, we've now opted for the following look as shown below. Furthermore, the first of Roam's two mechanical heads has been completed and will be delivered to Michael Laizan's tonight for painting and fur attachment.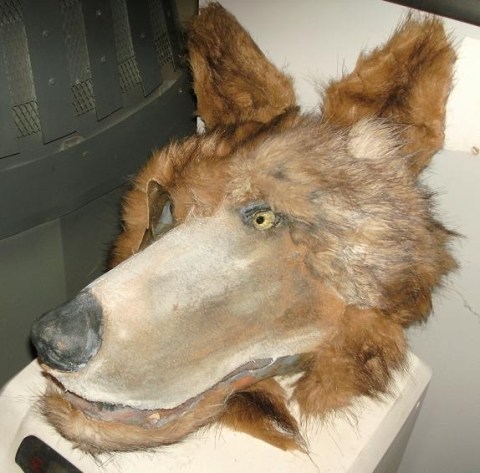 Dave named him Roam because he wasn't built in a day. Yeah, that's a pretty accurate assessment
23/4/11 - With everything going so well on the production it was inevitable that we would strike a hurdle somewhere. Good Friday was spent attaching the fur to Roam's head which, despite our best efforts, didn't work as well as we had hoped so we're now investigating a new solution. Furthermore, the Saturday makeup test we had with Tamara had to be cut short after we found she was allergic to one of the makeup products.
Needless to say both events have now been hastily rescheduled to get these points addressed.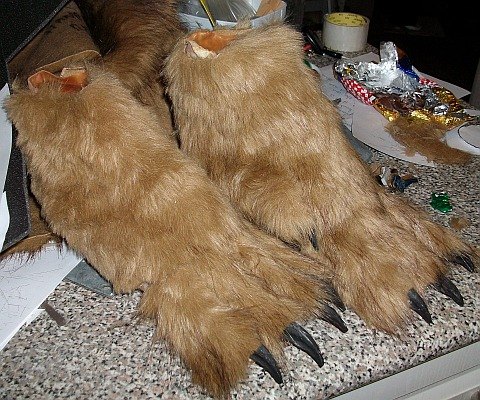 One small victory for the weekend, fur was successfully attached to Roam's paws
17/4/11 - One month to go. Yes it's now one month to the day where Red will finally move from pre production into production. Fittingly a couple of crew members visited the Panton Hill Winery location to draw up some set piece details and to figure out how the lighting setups will work.
13/4/11 - This evening Dave was measured up for the all important wolf fur suit that April Staines will make. The idea is that she'll make the outfit this weekend so Dave can have a fitting next Wednesday. If it all works out, we'll be able to see Roam come to life in his entirety on Good Friday when the fur is finally attached to the head and paws which will connect to April's fur suit.
6/3/11 - Tonight Red came to life! After three months of planning and work by Debbie, Tamara finally got to try on her "battle suit" costume and it looks great. There are still some adjustments to be made, but when Tamara put the red cloak over the outfit the ensemble looked really cool. We are definitely doing something with Little Red Riding Hood that's never been done before!
3/4/11 - What an amazing weekend this has been! Saturday morning saw us visit Rose Chong's costume house in Fitzroy where the costumes for both the Barman and Barmaid were pieced together. In the afternoon, Tamara Donnellan got to put her sword play skills to the test as she commenced fight rehearsals for her confrontation with Roam. Speaking of our furry co star, on Sunday we looked at a location on a little property outside of Trentham where he and Red battle together (with huge thanks to our own Tom McCathie for finding/organising this).
31/3/11 - Roam is getting a new fur coat, literally. Tonight we placed the sample of Fox Alsatian fur over Roam's head and Dave's body and were VERY happy with how it looked, especially with the colour enhancements added in by Michael Laizans. So our task now is to pick up a number of metres of this fabric in time for Good Friday when we officially start giving Roam his pelt.
30/3/11 - It is with great joy we welcome Tamsin Scrimshaw onto the production as our new makeup artist. Tamsin is well versed in creating the makeup looks we require for Red and we know she'll have a great time working with us.
28/3/11 - We had a look at the fur for Roam and have selected a product called Fox Alsatian. Fortunately we were able to take a sample of the fur which we will attach to Roam's head on Thursday to see if it's what we're after.
Tonight will see a review of the costumes including Red's battle suit which has now been cut, sewn and coloured.
19/3/11 - He's ready for some scratchin'! We finally got to see Dave's sculpting work of Roam's claws and as you see these will satisfy any itch.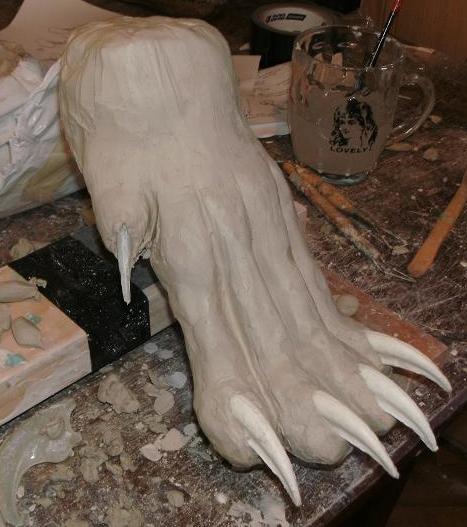 In other Roam news, this week we hope to pop down to a Textile place in Elsternwick to look at picking his fur.
27/2/11 - This weekend was chock full of Red pre production activity. On Saturday we commenced location scouting for our forest scenes where Red and and Roam come face to face. We looked at one property in Wallan and hope to check out a few more in the next month or two.
Finally elements of our film came to life as today we had our first costume fitting with the lead cast. Debbie our costume maker has been working hard over the past couple of months preparing various outfits so it was great to finally see the results of her efforts - even though this was just a test fitting and measure up.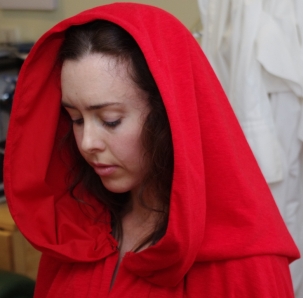 Tamara Donnellan as Little Red Riding Hood
16/2/11 - Tonight saw our all important meeting with our DoP Brett. Of particular interest is Brett's desire to shoot Red using the state of the art Panasonic AF 102 camera, so if the AF 102 is good enough for Brett, then it's definitely good enough for us.
4/2/11 - Tonight was a special night as Tamara (Red) and PiaGrace (Genevieve) finally got to meet each other and receive their screenplays for the film. Next up will be a costume fitting, including Brendan and Tom our main lumberjacks, at the end of February.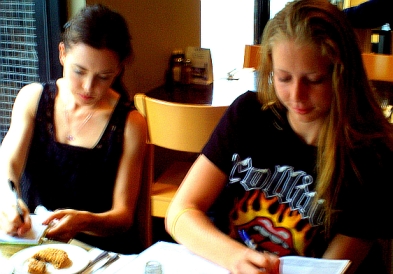 Tamara and PiaGrace take notes about the production
In other news, remember when Iris our granny her her neck cast? Well the torn away part of her throat has now been created, complete with exposed jugulars and veins. It looks very meaty indeed.
Regular readers of this website will be aware that work on Roam has been ongoing for a while, now with Dave's permission we've been allowed to publish a photo of our film's canine star as he starts to come into being.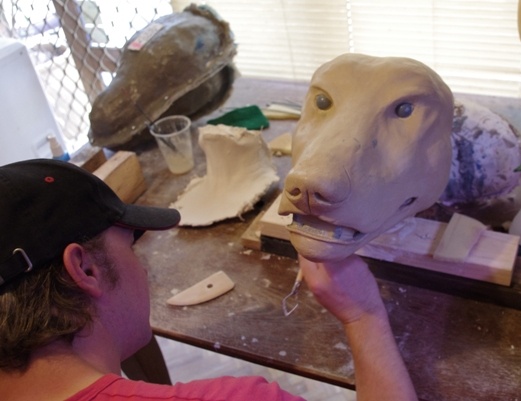 .
30/1/11 - Our costuming department is going great guns! Debbie has made the two red cloaks required for Red and has already started work on Red's "Battle Suit". As a bonus to this, both Debbie and Peter Sims went shopping today and managed to acquire all the costumes for our five lumberjacks! On Wednesday Debbie and I will meet up to finalise the dresses that both Red and Genevieve will wear that Debbie will then make.
In the wolf department, Roam now has an outer skin so it won't be too long before we start looking at painting him and putting on the all important fur.
It's all getting very exciting indeed!
18/1/11 - Our wolf is now starting to take shape, yep as of this night our sculptor Dave Hankin started work on what will eventually be the skin for the wolf. This is an exciting part of the production as we'll be able to see exactly how the wolf will look and how big it will be. Unfortunately we can't post any photos of this at Dave's request.
In other wolf news it seems our co star now has a name, Roam. Why Roam? Because as Dave said "it wasn't built in a day and it moves around". Oooh kay :)
16/1/11 - A cast of our Granny's neck (Iris Jackson) has been completed by Dave Hankin. This will be for the sequence where Red visits her Granny only to find that wolf hasn't been all that kind to her.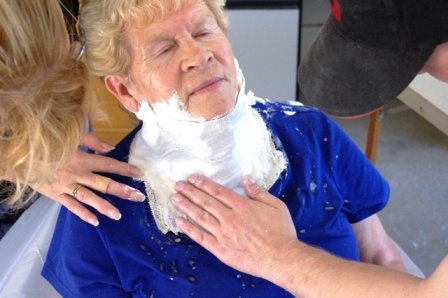 9/1/11 - Well it's now the new year and with it comes a lot of great news regarding our film. First off is the great news that we now have a cast! Yes we are happy to welcome our two lead actresses for the production: Tamara Donnellan who will be playing the all important role of Red and PiaGrace Moon who will be playing Genevieve. Now that the ladies have signed onto the production our next step is arrange a time for them to meet each other, give them their screenplays and discuss the film in detail including rehearsals and costume fittings.
Other confirmed cast members include: Brendan Parry Kaufmann as Mergin, Tom McCathie as Johnson, Iris Jackson as our Grandmother, Carol Ann Matthews as our Barmaid and Michael Laizans as our Barman.
In other news:
Costume materials have now been purchased including the lushious red fabric to be used for Red's two cloaks (one of which will be torn up).
This Saturday will see Iris, our grandmother, receive the special effects treatment as we create a cast mould of her neck for her all important sequence where she meets our wolf and comes off second best.
Our wolf now has a skull! On Saturday we will be reviewing the skull and discussing more details regarding our canine co star.
13/12/10 - Auditions for Red have been completed. With just three roles on offer (Mergin, Genevieve and Red), we were stunned to have around 40 people turning up for the day which was great to see! Needless to say we got to see a lot of great talent in action so it'll be hard to pick our final cast - which we hope to have locked down by early January.
15/11/10 - Casting auditions for the roles of Mergin, Genevieve and Red were announced for December 12th.
12/11/10 - Discussions with our costumer are underway. As the film will set in Austria in 1701 (and yes that IS a Star Trek reference), we're looking at the fashions from that era. Admittedly our aim is to not make a truly accurate period film, however, it will give us an idea of what designs we need to incorporate.
22/8/10 - It might appear to be a quiet couple of months on the Red front, but nothing could be further from the truth. Today saw a status check of the wolf construction and it's all coming together really well. Dave Hankin has created a great skull design in clay which will soon be molded in preparation for the outer layers to be applied. After studying the skull in detail, Paul Potiki suggested a few modifications with the end result being some great team work between Dave and Paul in the final sculpting and design. One thing is for sure, it's clear to see that even at this early stage our wolf is going to be a scene stealer!
20/6/10 - Construction of the wolf is now good to go. After a great discussion with Dave, Adam and Paul, the concept of how the wolf will be built was finalised. Dave has now been given funding to start work, the preparation of which will commence from tomorrow.
23/4/10 - Some great news. Today we secured our all important Tavern location which will also double up as Grandmother's house. We visited the Panton Hill Winery in Victoria and were blown away with its old 1800's look and charm, for this reason we had no hesitation in booking the winery for our film.

One key change in our schedule in using the winery is that our filming dates have been moved from October 2010 to May 2011 which is when these sequences will be filmed. Although the date is over a year away, it will give us a lot more time to get things organised as well as giving Dave Hankin a year to build and complete the wolf as opposed to only a few months. Things are getting very exciting indeed.
11/4/10 - Today we completed our all important storyboard photos (using our stand-in Red and Wolf) which are designed to show us where exactly our wolf appears and what it needs to do. These images will now be passed to Dave Hankin who'll have a better idea of what part of the wolf is visible to camera so he'll know what sections to create.
14/3/10 - Our first production meeting was completed today with a lot of items covered off. As to be expected the main attention was on the design of our wolf as we're looking at creating something that's visually interesting for the film which still conveys the level of intellect required for the story. To assist with this Paul Potiki will look at doing digital designs based on the photos of real wolves whilst Dave Hankin creates a few clay maquettes of wolf designs. As for the rest of the production the focus is to scout some locations which will commence in April and to put together the all important storyboards which will also occur in April. All going well by the time May comes along we will have locations addressed, wolf construction ready to begin and storyboards finished off. It was also confirmed that production is moving back from September to October 2010.
5/2/10 - The film's first production meeting has been scheduled for March 14, it's here that all the details for the film will be worked out with all key department heads.
24/1/10 - We welcome Debbie Michelsen to the team, Debbie will be our lead costume maker working with the designs that Adryan will create.
23/2/10 - Concept design work on our wolf has started. Michael and Darren got together to nut over some ideas and concepts and have come up with some ideas that we think will be great. Now it's up to Michael to final some design images that will then be passed over to Dave who can then start construction.
20/1/10 - This weekend will see Michael and Darren get together to start design work on our wolf. After five years of waiting, it will be great to finally see what the other "star" of the film will look like.
19/1/10 - The amount of talent being recruited for Red will definitely make the production truly special as we welcome David Jackson into the team as our Production Designer. David is well versed in this area as he performed this task on the feature film Damned by Dawn - which ironically was Written and Directed by our very own DoP Brett Anstey.
13/1/10 - It's our pleasure to welcome Adryan Scicluna onto the production as our costume designer. As Red is not your ordinary "Red Riding Hood" film, we are therefore not looking for ordinary RRH costumes, so Adryan is our man.
10/1/10 - Now that we're into the new year, there's been some great developments on the Red front. First off, we're happy to welcome Michael Laizans onto the production who will be taking over from Paul Potiki as the concept designer for our wolf. Further to this, we're also very happy to have Dave Hankin on board as he will be building our wolf puppet with assistance from Vas Babic and Adam Gill who'll focus on the animatronics. On top of this good news, once the announcement of Red was made on Christmas Eve, a number of DMFilms crew veterans instantly signed up for the production which is great news.
24/12/09 - As Darren's Christmas gift to everyone, details of Red are finally announced to the public, including the release of the new poster and the public launch of the website.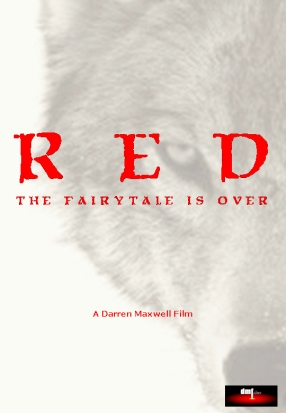 22/10/09 - Paul Potiki has been asked to create some design concepts for the wolf working on the view that it has to be comfortable operating on both two and four legs.
21/9/09 - After some discussions with Rob, it was agreed that Darren would take ownership of the production and become its sole Director, mainly because this is planned to be Darren's last short film before he moves into the feature film arena. Despite a number of delays that have pushed the production back by a couple of years, Darren is determined to bring the film to life with pre production to commence in 2010 with a completion date of 2012.
18/5/08 - 5th draft of the screenplay is complete. Due to other Projects taking longer than anticipated, the production of Red is moved foward to mid 2009 with a planned completion date of 2010. After two years of discussions the film still hasn't been announced to anyone outside of the four producers and couple of crew members and thus remains a closely guarded secret.
9/5/07 - Brett Anstey, an award winning Director and DoP (and a good friend to Darren and Rob) agrees to be the Director of Photography for Red and is really keen on the project. Principle photography is now expected to take place in the latter half of 2008.
20/2/07 - Rob is now permanetly wheelchair bound and as such is prepared to hand over the entire production to Darren. Darren declines as the production was always going to be a joint venture between the two of them. As a result Rob arranges to create a new short film in the middle of June 2007 (Checkpoint) to see how well he handles outdoor locations in the wheelchair, this will also be an indication to see how well he handles the Red locations when the time arises.
19/2/07 - Rob re edits the original 2005 trailer as motivation to see the actual film come to fruition.
31/12/06 - Due to an illness that has fallen upon Rob, the new Red trailer is unable to be made and the production is put on hold until he gets better.
9/11/06 - Rob discusses the option of creating an "investors trailer" as inspired from the menu system from The Lord of the Rings DVD. The date is set for filming to commence on 26/11/06.
5/11/06 - The Red teaser poster is approved. The release date for the poster is set for 1/12/06 as the film still hasn't been announced to anyone.
3/11/06 - redthemovie.net is registered.
2/11/06 - Rob and Darren agree that the 4th draft screenplay is now the final one.
1/11/06 - After doing Visual FX for many DMFilms and Calm Before the Storm productions, Paul Potiki accepts to take on a new role of Co-Producer.
31/10/06 - Another pre production meeting is announced for November 25 specifically to discuss the concept designs of the wolf and whether we are to create a totally fake wolf or use a real dog. Paul Nelson offers to join the production to build the wolf. First teaser poster created.
30/10/06 - 4th draft of the screenplay is finished based on changes discussed at the meeting prior. Options of using a real dog/wolf in the film are considered and contact with the Siberian Husky Club of Victoria is made.
26/10/06 - First initial pre production gathering. Rob, Darren along with Paul Potiki (concept designs/storyboards) and Peter Sims (Production Designer, Art Director and Co-Producer) have dinner together to discuss details of the 3rd draft screenplay along with further ideas, enhancements and concept images.
15/10/06 - Dates for production are announced. Pre Production is to commence in February 2007, auditions/casting to commence in May 2007 with production slated for August 18/19, 25/26 2007. Second and third draft screenplay created.
29/9/06 - First Red screenplay created. Rob has a look and discussions take place about modifications and enhancements. Darren is now confirmed as Director with Rob being 2nd Unit Director. From the outset it is agreed to keep the production a secret from all our friends until pre production is formally underway.
26/9/06 - With little progress being made on his film, Rob proposes making a second Red trailer. However, one night when Darren Maxwell and Rob are out together having dinner, Darren outlines the possibility of creating a film beyond Rob's script. Darren asks Rob for permission to use his initial ideas and concept to write a screenplay which will be vastly different from Rob's original version. Rob gives Darren the OK to proceed and immediately ideas are tossed around which in turn form a basic premise of the story.
To see the summary of ideas which came out of this discussion, click here. It's really interesting to compare Darren's notes to the final film just to see how close they were
17/12/05 - Rob Hamilton premieres a Red concept trailer based on a script he has written for a short film he hopes to make in 2006.