News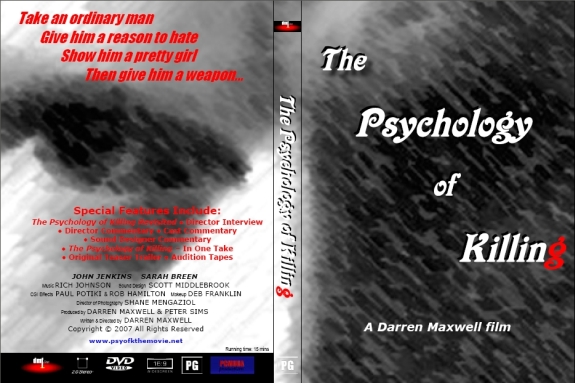 20/8/07 - PsyofK is now complete! After two years of work (including 15 months of post production) I am proud to announce that the film was finally finished today. A huge amount of thanks is owed to all the people who took part in the production and it is hoped that they, and everyone else, enjoys the final product.
24/7/07 - After so many months of work and rework, Scott our Sound Designer has delivered the final mix on all the audio and can now close his part in the production. All that's left is for the audio to put into the edit where the final mix can commence. The aim now is to complete the film in August.
28/6/07 - The new Visual Effects shot that was filmed earlier in the month has now been completed and is ready for insertion into the edit. Scott has completed remixing work on John's dialogue and is now tackling Sarah's ADR and the foley work. All going well, Scott will have all this completed by mid July. From there all that has to occur is for me to reassemble the edit and that'll be it.
4/6/07 - We completed filming of a new Visual Effects sequence for the climatic part of the film. This effect had been originally done digitally but it was decided to film it practically instead to improve the effect. The ADR mix for John and Sarah is complete, all that's required now is for Scott our Sound Designer to perform the final mix and complete some foley work.
30/4/07 - Our ADR session with both John and Sarah was successfully completed on the weekend. Kudos to John who spent more than 7 hours faithfully recreating his performance from a film that he appeared in 11 months ago. Audio mixing of the new material into the edit has already commenced.
5/4/07 - The ADR session for the cast has now been booked in for late April with both John and Sarah happy to reprise their roles. This means the film now has a scheduled completion date of May 28 which is exactly one year from when we wrapped principle photography.
4/4/07 - After spending months working on the sound for PsyofK (a very special thanks to Scott our Sound Designer for this), it's been decided to go for the ADR approach to see if we can improve the quality by re recording the vocals of our actors. This decision has been reached as some of the corrupted noise from the on-set recording has been too difficult for Scott to remove and as such we've opted for the "clean slate" alternative in ADR. The ADR solution may give us greater quality sound but it will come with its own problems as there is 10 pages of straight dialogue that will need to be recorded from John our lead actor - which is why we held off taking this approach initially. Fortunately John has already confirmed his willingness to take on the role (vocally at least) of James K Beverson again so all that's need now is to book a time for the recording session to take place.
14/2/07 - Been a long time between updates. All the Visual Effects and music is completed. All that's remaining is the sound (dialogue primarily) which is turning into a somewhat arduous task for Scott our Sound Designer to clean up. We're now looking at a completion date at the end of March. Cross fingers.
14/11/06 - Everything was pretty quiet for a while, then within the space of two days all the colour grading, visual effects, music and sound design was delivered which was great. There is still a requirement for a few enhancements here and there but it's all looking pretty good.
20/9/06 - It's been a quiet month as both myself and a couple of my key crew have been working on some corporate videos which took priority over PsyofK. But they are now finished so work on PsyofK has begun again in earnest. The good news is that a couple of Visual Effects shots have been completed and inserted into the edit with others now being looked at. Colour grading styles have been reviewed and I think we've picked the direction we want to go. A copy of the film is now in the US where Rich our music composer will be able to commence work on the score.
21/8/06 - We now have a locked edit! Running at just over 15 minutes, I'm very pleased with how the film has turned out. A copy of the edit can now be sent to our Visual Effects guys for colour grading, our Sound Designer for some updated audio work, and to our composer in the US for the music. There are a few Visual Effects that have yet to be included but they will be completed in due course.
24/7/06 - Material has been passed over to our Sound Designer so he can commence mixing the audio. The first edit has been tweaked a bit more and is now an inch away from being locked off. Visual effects are well underway and are looking really good.
27/6/06 - First edit is now complete. There are still a number of enhancements to be made but at least there is now an end-to-end cut of the film. Soon this will be reviewed by some key people to see what improvements can be made.
15/6/06 - Editing is now well underway, also there are now some images available in the Production Pics part of this site.
28/5/06 - IT'S A WRAP! After two postponed attempts, the production of PsyofK was successfully wrapped yesterday. A huge congrats must go to the cast and crew who brought the story to life. So now we move into post production where all the elements of the footage will be brought together.
22/5/06 - Everything is nearly set and ready to go. Costumes are now complete, call sheets have been sent, the last of the props are being organised, the location is ready, the crew is ready, our final rehearsal with John will be this Thursday and we'll be visiting the location on Friday to start setting things up. If we get some good weather on the weekend the shoot itself should be a blast.
11/5/06 - Rehearsals have recommenced. After being on hiatus for 3 months it is good to see John Jenkins in action as James K Beverson once again.
5/4/06 - We now have a new location (thanks to Radius Print) and new date for production. PsyofK will be filmed in South Melbourne on May 27 and May 28 2006. It should be great!
8/2/06 - Unfortunately we've had to postpone our shoot for a second time as our lead actor, John, is tied up with other committments. So we'll try again in May 2006 and hopefully it will be "third time lucky".
23/11/05 - Our shoot that was scheduled for this weekend has been postponed due to the unavailability of a suitable location. This means that we'll have a break for a while and then pick things up again from early 2006.
4/11/05 - Cast announced. We are please to confirm that John Jenkins and Sarah Breen have now been selected to perform in the film. More information on them can be found here
2/11/05 - Auditions completed. Cast to be announced shortly.
6/10/05 - Location scouting has commenced with a couple of great possibilities having been looked at already.
3/10/05 - Final draft of the screenplay is complete.
27/9/05 - Audition information now available. Auditions are to be held at ACOPA on Saturday October 29. See the Audition section where character bios and screenplay text for reading are available.
7/7/05 - PsyofK web site launched.