When any Batman will do
One day in around 1995 Geoffro had a stall at a large Collector's Fair at the Melbourne Exhibition Building. He had heaps of unique toys and collectables on sale including, believe this if you will, three loose Batman Jelly "babies" from 1989 (who on Earth would be willing to buy these is anyone's guess). Despite Geoffro's excellent skill at organisation, one thing he forgot to bring was something for lunch.
Sure enough as the hours rolled by, Geoffro started to eye off these 6 year old Batman Jelly babies thinking how they could quell his growing hunger. He looked and he looked and eventually he caved in. He picked up the first jelly Batman, looked it up and down and after some hesitation took a bite. It stretched and stretched until the piece finally gave way so Geoffro could commence munching on his prize "it's a bit chewy" he said.
Finally as the rest of us looked on in shock (and revulsion), Geoffro finished the first jelly Batman and after giving it the thumbs up, decided to chow down on the other two.
.
Colour my world
One day Geoffro decided to use a "do it yourself" hair colouring kit and promptly went off to the bathroom to turn his black locks into a nice shade of red. When he emerged his hair looked fine but something seemed wrong with his face. Upon questioning he conceded that he had some colour left over and decided that since "waste not want not" was the order of the day, so he coloured his eyebrows as well.
.
Have Batman costume will travel
Geoffro and I decided to wear Batman costumes to the premiere screening of Batman in 1989. When I got to the cinema all kitted out in my cossie, I was shocked to find that Geoffro was minus his. It turns out that Geoffro had indeed made a Batman costume out of his favourite material (black plastic) but was too embarrassed to wear it. Shame, shame, shame.
.
Have your cake and eat it too
One of the Concave conventions had a novelty that was completely unique amongst all other cons, a complete dessert only banquet – buffet style! Naturally we looked upon a buffet dessert banquet as being complete heaven and showed no mercy as we ate ourselves silly. Geoffro however, being a much bigger eater than I was, had a problem working out when to say "enough". After he admitted that he was completely full, he proceeded off to the buffet table and returned with a large slice of cake. We all looked at Geoffro wondering how on Earth he was going to eat this piece and in fact he was wondering the same thing too.
The result? He got his fork and slowly scrapped minute crumbs off the side and ate those instead.
.
And you thought Ed Wood was fast!
Feeling inspired by his fellow film maker friends who were creating their own dramatic short film masterpieces, the Geoffro decided to create a serious production of his own. So on one particular day when I was staying over at the Geoffro's abode, I found that he had written a synopsis and screenplay for a new film in the space of three hours. He finished the screenplay in the morning, we filmed it at lunchtime and by the early afternoon it was complete.
The end result was his 5 minute epic "Pee Wee Monster". Considering most short film productions can take on average over 6 months to complete, I think the Geoffro did pretty well to complete the bulk of his movie in less than 6 hours.
.
Holy Crumbles Batman!
Geoffro was a Batman collector like myself in the early 90s and together we each bought a great looking chocolate Batman Returns Batmobile for our collections.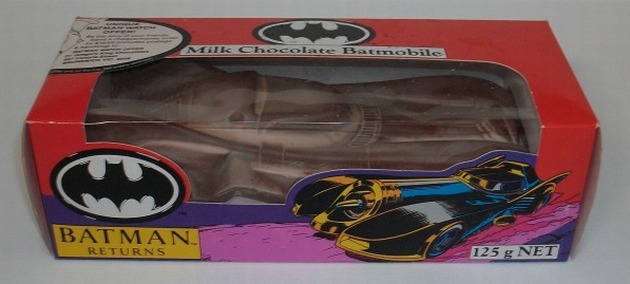 Unfortunately after many months passed the chocolate started to turn white and then one day Geoffro rang me up and said in admonishment "my Batmobile has just crumbled!" Not one to spend time lamenting on this disaster I asked him over the phone "what are you going to do with it?" and Geoffro replied "I've already started eating it .... ummm I think this was a wheel". That's our Geoffro, waste not want not.
The amusing PS to this story is that as soon as Geoffro told me his chocolate had crumbled I immediately put mine (which though white was still intact) in the fridge and it's now been there for over 20 years!
.
An epic production in the making
Geoffro once worked as a security guard doing night shift work at a large supermarket. Considering this to be a great opportunity to utelise his creativity, The Geoffro came up with an idea for a new fan film called Sock Wars - yes a Star Wars parody using sock puppets. Knowing that socks couldn't act in front of a blank wall, The Geoffro went about constructing background plates using discarded materials from the supermarket.
When asked how he was progressing with Sock Wars, The Geoffro would respond with "I'm currently BUILDING the sets" which gave the impression he was assembling a production of mammoth proportions - especially as it took him a few months to finish this work. So imagine my surprise when filming day arrived and The Geoffro arrived with a couple of dozen flattened cardboard boxes with various bits of tape and coloured paper stuck all over them.
.
It was really rad
Geoffro was a regular attendee at sci-fi conventions and everyone loved having him there to liven the place up. In 1993 someone who wasn't a keen Geoffro supporter (don't worry, selected breeding has kept their numbers to a minimum) was planning to run a sci-fi convention and even though Geoffro purchased a T-shirt supporting the event, it was clear that the convention organiser was not overly keen about Geoffro's impending attendance. Yet as fate would have it, The Geoffro got the last laugh as the convention was cancelled a couple of months before it was due to be held.
Not wanting to show any animosity to the event nor this particular organiser (OK maybe just a tiny bit), both Geoffro and myself attended the hotel venue on the weekend the convention was meant to occur with Geoffro wearing the convention's T-Shirt in support. We walked into the very quiet hotel foyer proclaiming "well we're here, where's the con?" and even took photos as a momento to the occasion.
.
Murphy's Law strikes back
I bought a very large framed Empire Strikes Back poster from someone in Queensland which was shipped down to a courier in Essendon. At the time I didn't have a car so I asked Geoffro if he could help me pick it up. The plan was simple, arrive at the courier's depot, pick up the picture, fold the back seats down in the Camira, lay the poster on top and drive home.
We picked up the poster without a snag and the time came to put the picture in the car. I asked Geoffro to drop the back seats and he just looked at me dumbfounded as he replied "the seats don't fold down." I couldn't believe my ears "whatdaya mean they don't fold down!" Not only could we not put the picture in the car, but it was now dark and we were stuck there in Essendon with a poster we couldn't transport.
Never one to be outdone by logistical issues, the Geoffro suggested we unpack the poster from its cardboard confines to see how much smaller it would be. Fortunately for us there was no glass in the frame because in the end the only way we could transport it in the car was to lay it flat over our heads inside the car with us.
The result was that I drove the Camira home with the driver's seat pushed as close to the wheel as possible and Geoffro was in the passenger's seat hiding under the poster frame that was above him. Having no glass in the frame proved to be a life saver as we had to bend the frame somewhat to fit it in the doors. It must've made for a funny site seeing us drive down the Tullamarine Freeway like that – luckily I lived in Brunswick so it was a short trip.
.
What's in a name
Geoffro owned a red Holden Camira with gold alloy wheels which he was extremely proud of (he even enhanced it painting the windscreen wipers red and adding in some nice gold pin striping). To jazz up its look even further, I was able to get a couple of professionally made gold "Geoffro" name stickers to put on the panelling to show the world that this was indeed The Geoffro Mobile. We stuck on the stickers and boy did that car look flash!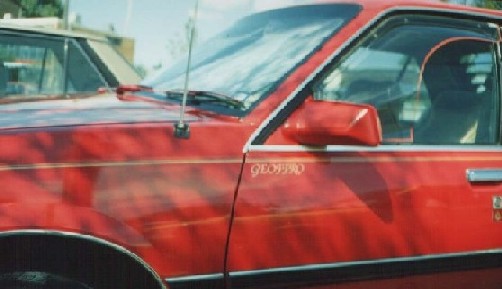 Unfortunately the time came for Geoffro to move to WA and he chose to take the Camira with him. Once he got there, however, he decided to sell the Camira and had the name stickers taken off. Of course what happened next? Not only did he NOT sell the car, but he also brought it back with him to Victoria when he returned a few years later! So he could've left the stickers on after all!
.
Wanted: One T-Shirt, must be REALLY pre-loved
Geoffro was notorious for putting anything and everything up for sale with the motto "someone will want it". He had a stall at a collector's fair and amongst the collectables were a number of his science fiction T-Shirts up for sale. Upon closer inspection of the merchandise I discovered that the shirts still contained official Geoffro sweat stains under the arm pits. My response was "dude, ya coulda washed 'em first!"
.
Score one for The Dags
Before Geoffro headed off to WA, he made a choice to sell off some of his collectables for a bit of extra cash. Needless to say, the Batman stuff was directly earmarked for me. One of the items on offer was a 60s tin Batmobile in the box (it's the type that's designed to run around the room and when it hits a wall or something, changes direction and continues on). After a bit of "umm-ing" and "ahhh-ing" Geoffro offered it to me for around $40 which I happily accepted. Can you imagine his surprise when he later discovered that it was worth over $400. A "Doh!" moment if ever there was one.
.